After I got an opportunity to watch an Ebo Whyte play in 2016, I made up my mind never to miss his shows again.
Maybe it's because of the statement he made about being a wicked Ghanaian if you have never taken time off or spent money to watch his production; maybe it was the voices of the actors and actresses; maybe it was the beautiful stage design or the educative storylines. Whatever it was, I was hooked; body, mind and soul.
Six years down the line, I still have no regret about falling in love with Roverman Productions. None.
Every quarter, I make my way to the National Theatre, and during the Festival of Plays in December, I select three productions that I love and go re-live the moment.
Then Covid came in 2020, and with it, various restrictions. So for over a year, I was separated from my love.
Although the Production House tried to stay connected by making previous shows available on their website, I couldn't connect, and the feeling was different.
I missed the environment at the National Theatre and the shared laughter with friends, family and even strangers.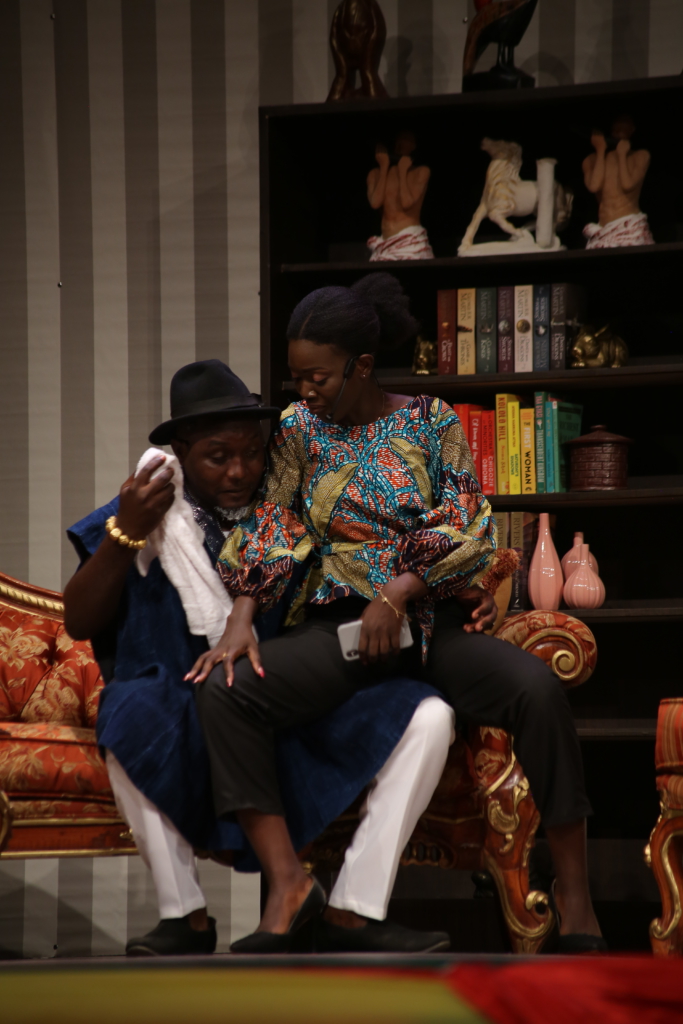 Fast forward, we are in 2022, and the first play for the year has been staged.
Of course, I was present in all my glory. Together with my best friend, Eugenia, my little sister, Hilda and her boyfriend, Jude, I was seated by 7:40 pm on Sunday, April 3.
It is important to note here that Ebo Whyte's production is the only thing I am never late for. If I am running late, I will cancel and reschedule; I won't bother wasting my time because I know it would have already started, and I would have missed a lot.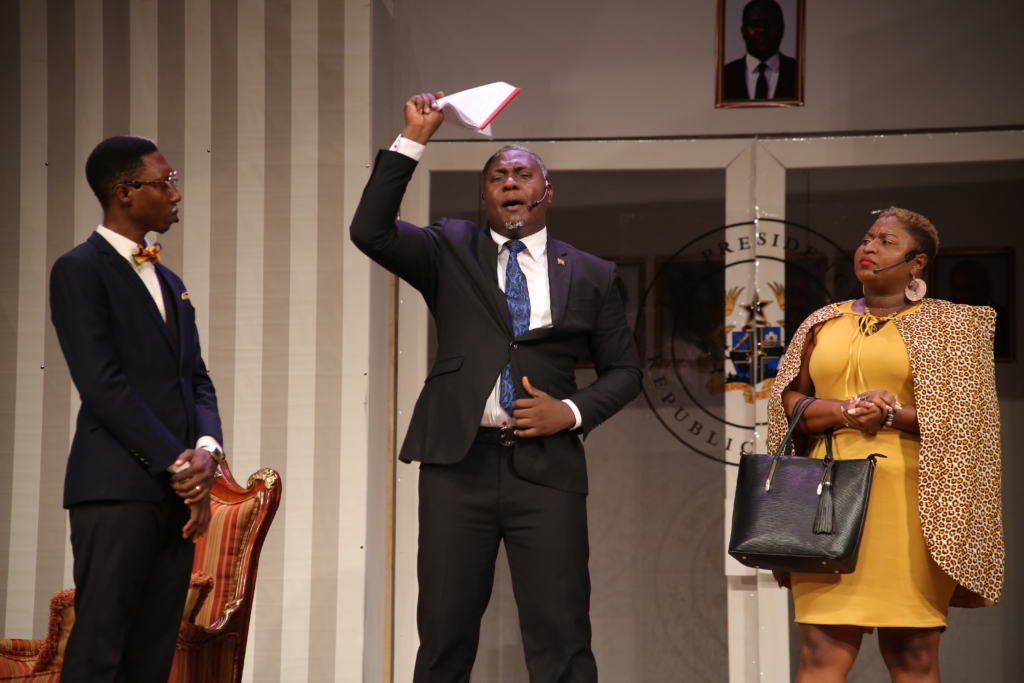 Just like most people I interacted with before and after the show, the title of the play, 'Take me to the moon', sounded romantic, and we were there to be blown away.
I guess I should have known better than to predict this from the motivational speaker who gives the 'plainest' form of advice.
Unlike what we had in mind, 'Take Me To The Moon' was purely political. It felt like our beloved country, Ghana, was being projected before our very eyes.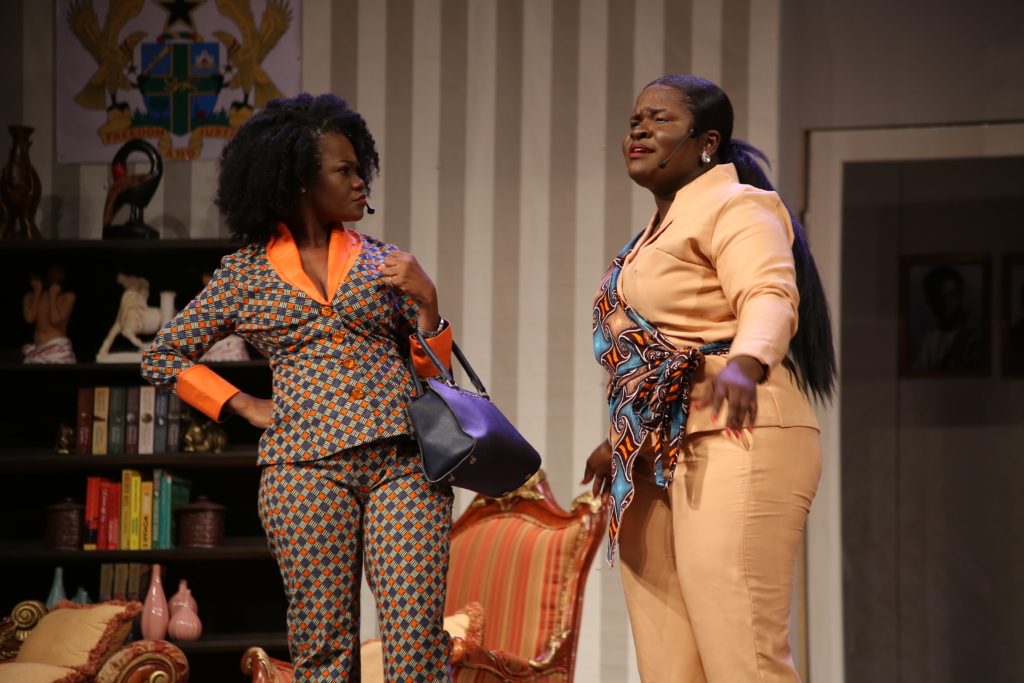 But before I go into who my favourite actor or actress for the night was, I will give you a background on the play. I will also mix this with some of my personal perceptions and assumptions so you can better appreciate it.
TAKE ME TO THE MOON
The eight-cast play tells the story of President Kwadwo Boamah (let's say of Ghana), who has a big dream that he is confident when achieved, will put his country on the map.
When he is told that a Ghanaian has been appointed as Deputy Director at NASA, Mr President, played by Andrew Bulley, tells the Chief of Staff he is interested in meeting him.
Ever ready to please her boss, whom she seems to have feelings for, Chief of Staff, Akosua K. Yeboah reveals to the President that the newly appointed Deputy Director at NASA is already in the country, and she has arranged for a meeting between the two gentlemen.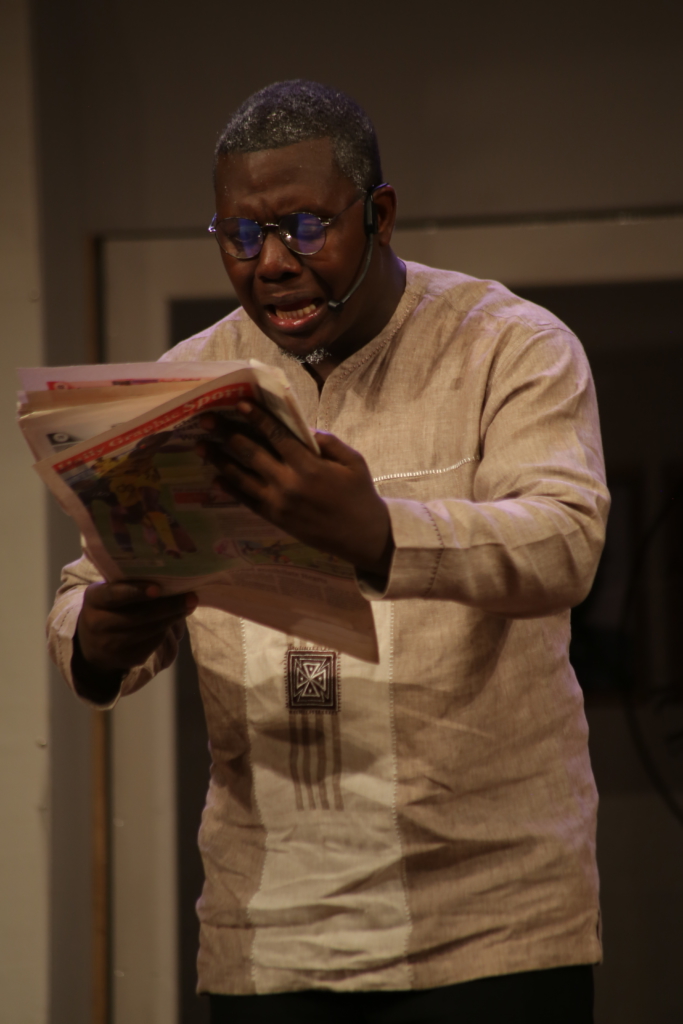 She also shares a newspaper article highlighting an interview by his ex-wife, who is surprisingly the Minority Leader in Parliament.
Still optimistic about her love for him, Mr President tells the Chief of Staff how proud he is of his ex-wife. According to him, he would not have expected any less from her. In his eyes, her 'hatred' for him is because of her 'love' for him.
He is still daydreaming about the good old days when a message comes through that the Deputy Director of NASA, accompanied by his wife, has arrived.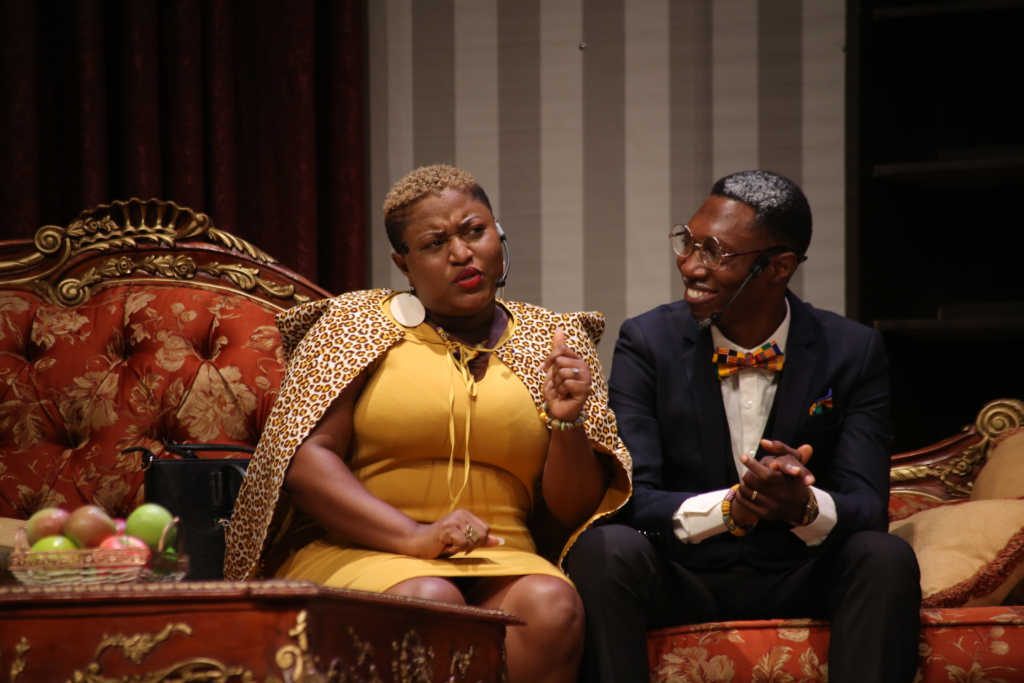 Now the drama begins.
Dr Kobby Tettey, played by Bernard Oduro and his wife, Prof. Akuye Tettey, also played by Benedicta Naa Odey, brought life on stage and set the ball rolling.
Born and bred in James Town, a suburb of Accra, Prof. Akuye shies away from nothing. Through her questions, the audience is given details about what resulted in the divorce between the President and his wife; and also his strong connection with his Chief of Staff.
Basically, he is accused of having an affair with her; an allegation he denies with an explanation that they spent a night in a room together, but there was no intimacy.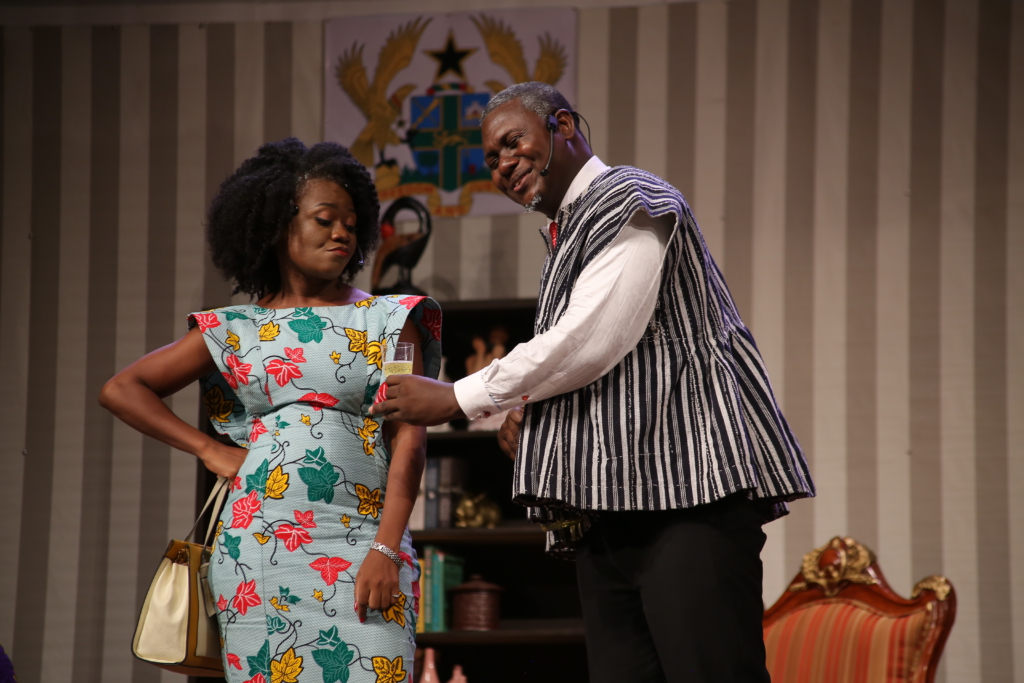 The President then tells Dr Tettey of his dream to build a space station in the country. His plan is to take Ghana to the moon.
In short, he was asking the Dr. to leave his new role at NASA, take over the project and be the one to make that dream come through.
Personally, the idea sounded crazy to me and from my seat in the audience, I could hear a few people liken it to the current President's vision of building a National Cathedral.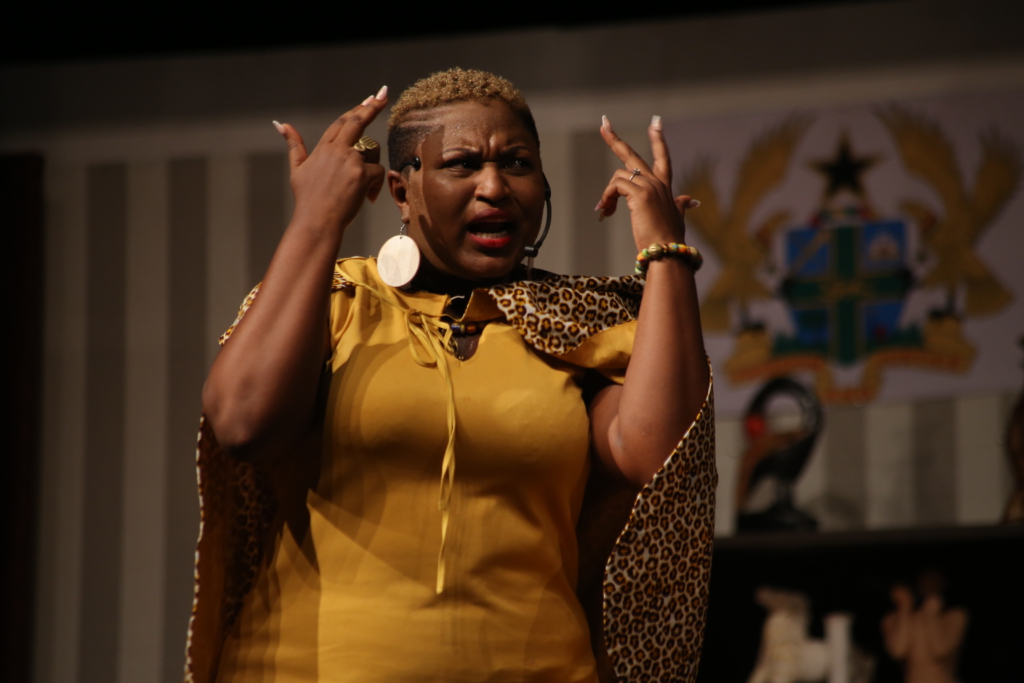 Back on stage, Dr. and Prof. Tettey were engaging in a heated argument as the woman was refusing to allow her husband to accept the appointment from the President.
She gave many reasons, including the politicisation of the project by party members, hustle when it comes to the approval of bills laid before Parliament, inflation of the cost of equipment and budget and the general attitude of Ghanaians towards projects that do not have direct benefits to their pockets.
But Dr Tettey will have none of it. His love for his country, desire to achieve the impossible and eagerness to bring people together were enough reasons to take the job. He was optimistic that he can garner support for the project with enough education.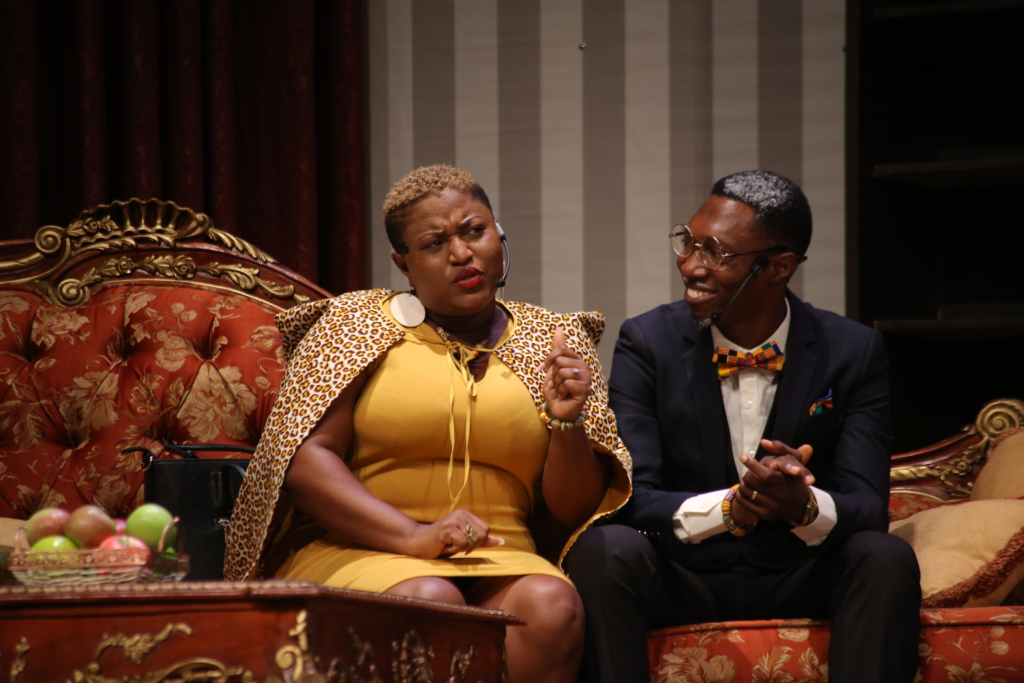 He also outlined measures he will put into ensuring the project was not cloth in any party colour or his reputation dragged in the mud.
After accepting to take the project and going behind closed doors for finals talks with the President, Party Chairman, played by Dr Michael Akoto Sasu, walks in.
Ok, I am going to take a break now to talk about this gentleman. If you haven't also guessed, he was my favourite actor for the night.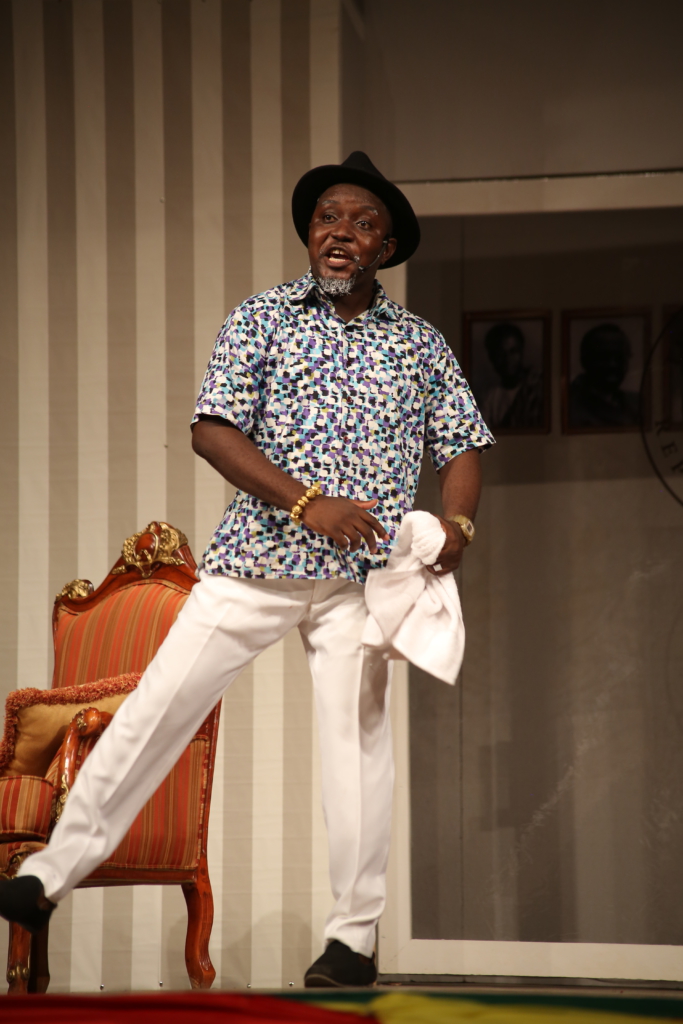 I don't know Dr Sasu, and we have never spoken before, but he has become my favourite actor after Adrian Afun, who played young Sam Korankye Ankrah in "Final Warning'.
From 'Caught in the Act' to 'Damaged Goods' to the 'Devil's wife' to 'God, you are fired', Dr Sasu has been the man to watch out for me.
His acting skills, flow, and energy gets me laughing when I see him on set. He also has a way of owning the characters he plays, making it difficult to even connect him as a pastor in a different play to him now as a National Chairman.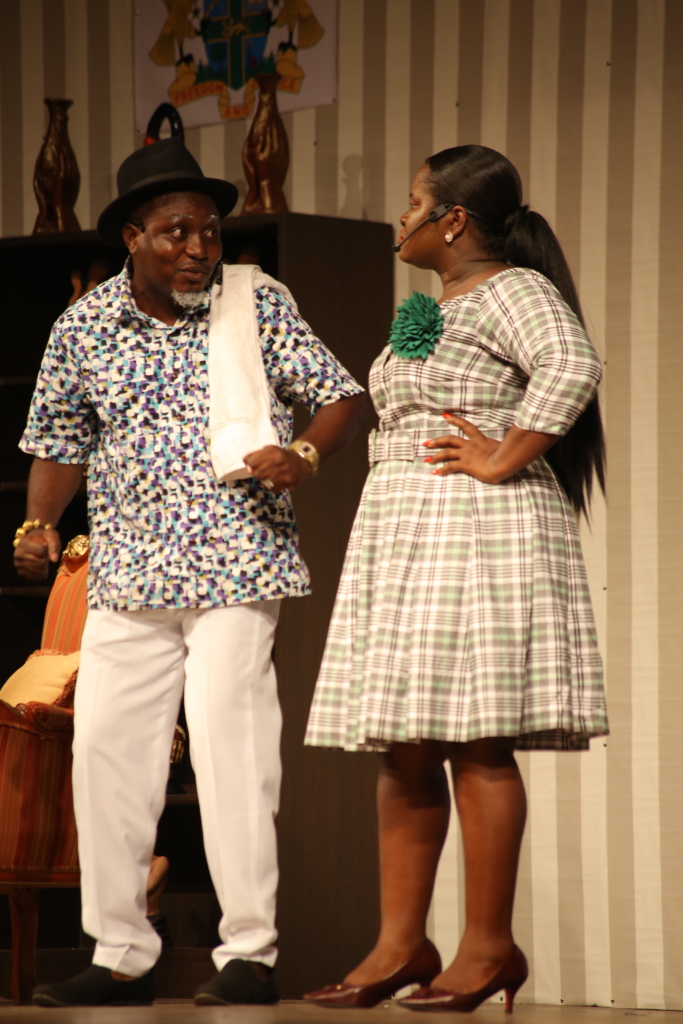 So just like Andrew Adote, I have come to see Dr Sasu as a real gem, and someone Uncle Ebo Whyte must treasure.
If I had known he was going to be part of this particular play, I would have bought tickets for more than five friends and everyone who has ever argued with me when it comes to Ebo Whyte; to rub his talent in their faces.
Anyways, back to the "MOON".
Chairman was everything he had to be, a kiss-ass in the presence of the President and a loudmouth behind him.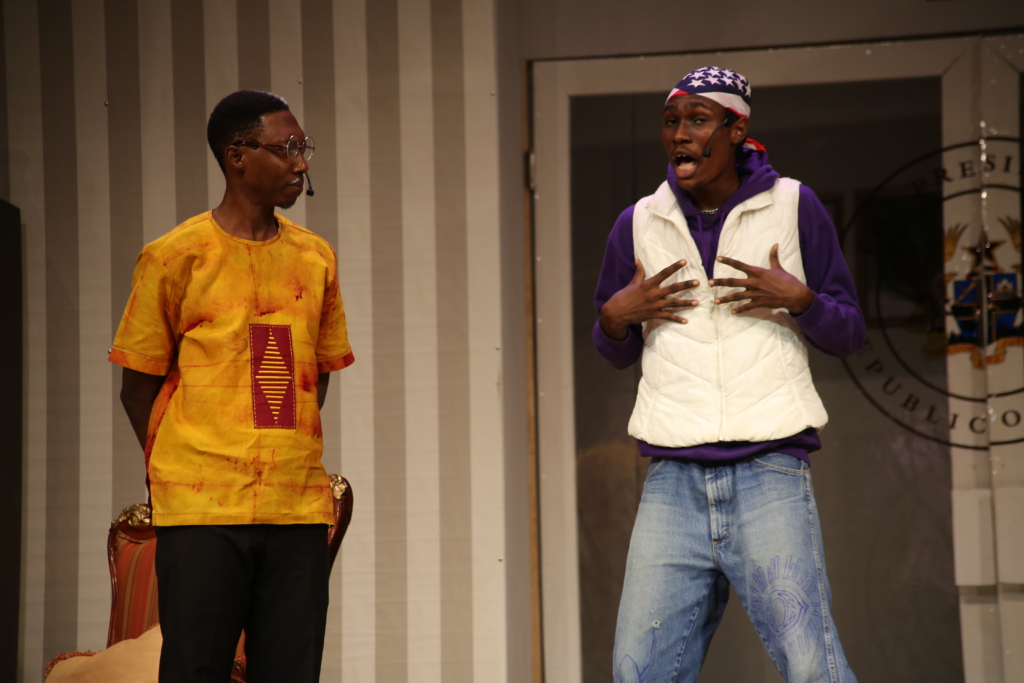 He was always looking out for himself and the party and didn't have any shame when it came to achieving these desires.
Already, his niece, Abena, a clumsy uncultured girl played by Angelina Arjarquah, had been given protocol to work at the Presidency, and he was very interested in his uneducated nephew, TT, also played by Gabriel Atepo, to be given an appointment on the Space Station Board.
I was therefore not surprised when at the end of the day, he and his media house were sued by Dr Tettey for defamation.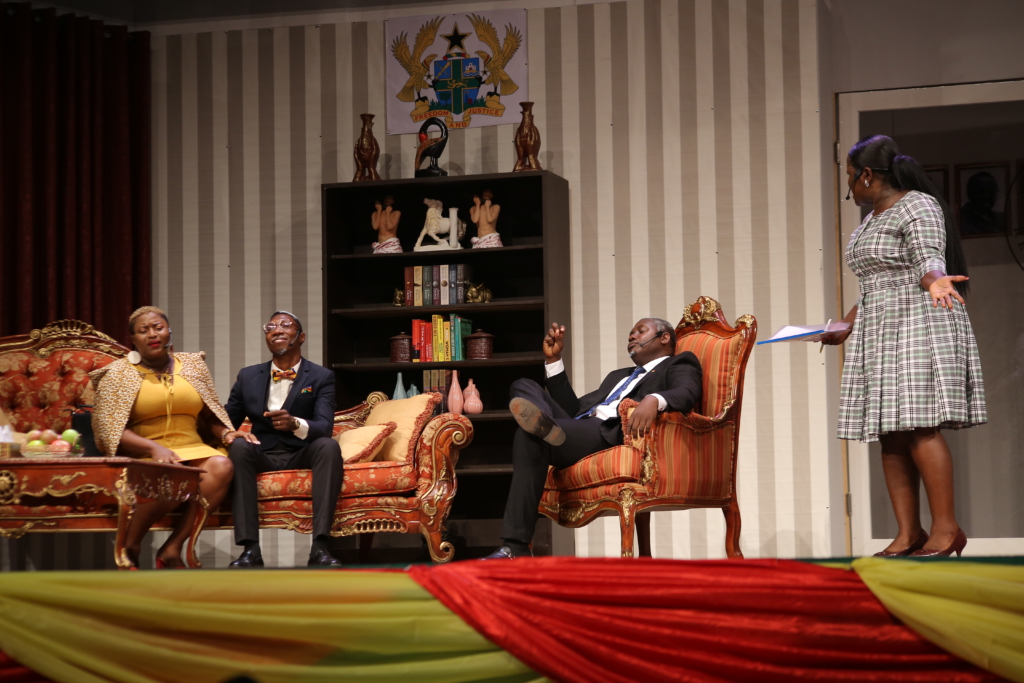 Yes, he owned a newspaper that he controlled and used for constant propaganda against the President and the government in power.
From her side, Minority Leader, Hon. Eileen, played by Sarah Yanumeh Beinpuo, brought her fire on stage, especially when it came to getting Parliament to pass a bill that will see to it that no matter the government in power, the project will be completed, not abandoned.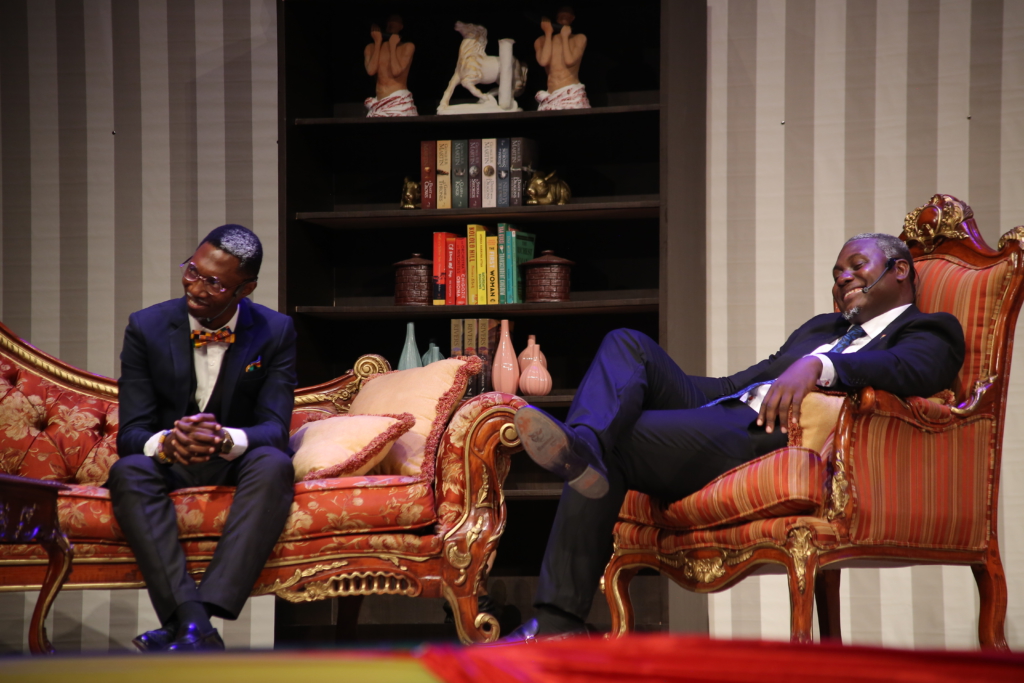 All in all, we didn't go to the moon, but Dr. and Prof Tettey were able to point out some of the struggles people in the diaspora go through to get things done for the country.
After months in the country, they had still not been given an office or a place to begin construction. Ministers and government appointees expected to help were delaying everything, and cooperation from the Presidency was low.
However, a stern warning from the President saw the Chief of Staff finally sitting up and oh, the Lands Minister was fired.
Although we shared a lot of laughs, most of the points made in the play were relatable. Also, a few jokes on the e-levy, the list by Abena Korkor, Dr Bawumia and his economy and the presidential jet saga were thrown in.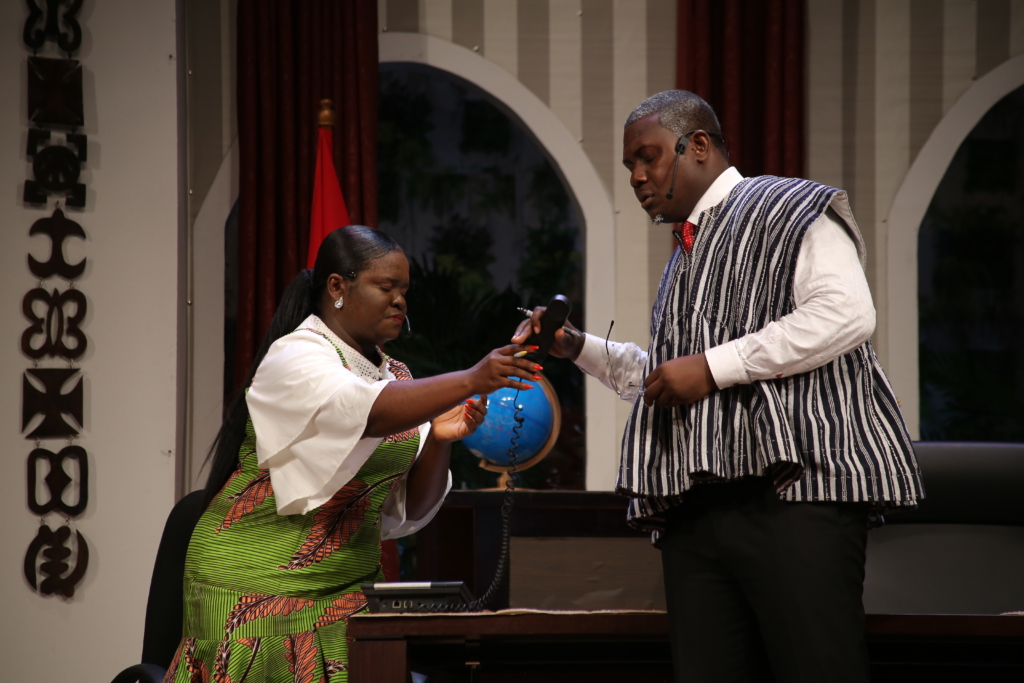 While my best friend said her take-home was that Ghana is not worth dying for, I said I had learnt to be thankful for the few systems working in Ghana. I realised we could have had it worse than we do now.
I also realised that even though the truth was played to us, Ghanaians, as usual, laughed it off instead of letting it stir up anger in them to demand more from their leaders.
I also wished this play could be staged in Parliament for the MPs and other Executive and the Judiciary members.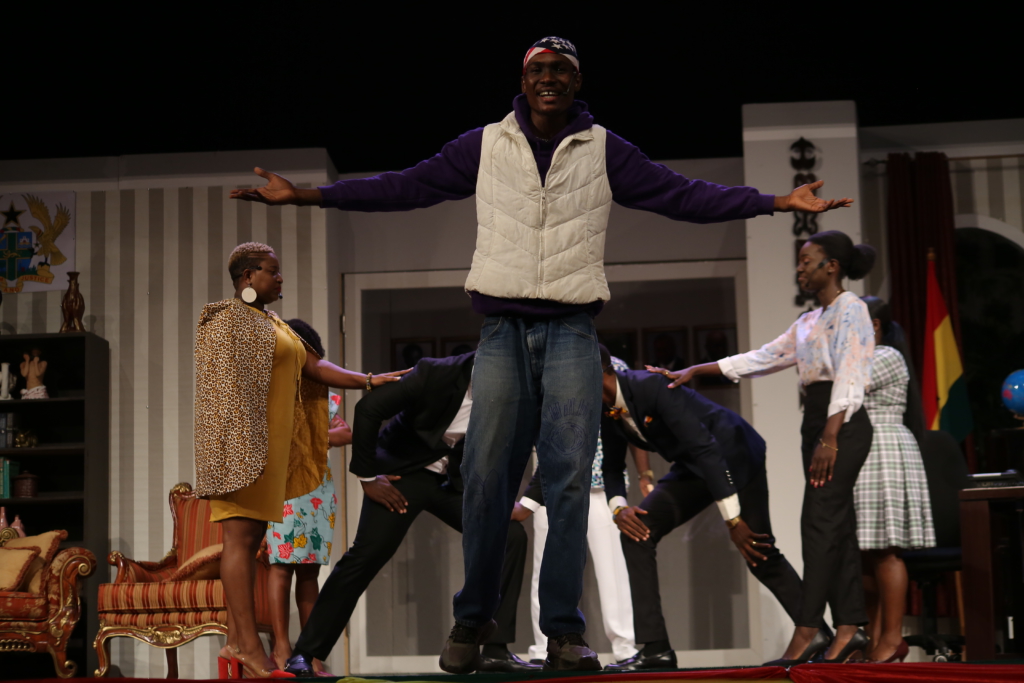 For the first time, Ebo Whyte's play did not have him flashing and throwing God in our faces, but it still got me praying for my family, my generation and my unborn children.
We need a new Ghana…. but will we get it? I doubt.