Elden Ring, a game about dying repeatedly in poison swamps, gets its own manga that captures the spirit of the game.
Whether you're stuck in Limgrave, or have battled your way through Malenia, blade of Miquella, chances are you've at least dipped a toe into the Lands Between of Elden Ring. Elden Ring quickly became the biggest game early this year. And now it's got it's own official Elden Ring manga.
But the Elden Ring manga tells the story of the game we all know and love. Which isn't a game about impossible boss fights. Because Elden Ring is a game all about a world where you can tell someone "try finger but hole".
Take a look at the official Elden Ring Manga
The official Elden Ring manga, done by Nikiichi Tobita, creator of A Cursed Sword's Daily Life, captures the stark humor of a game full of infested poison swamps. Every time Elden Ring trolls you with death, they're laughing. And most players laugh along with them.
Which is why it's perfect that Elden Ring gets a comical adaptation.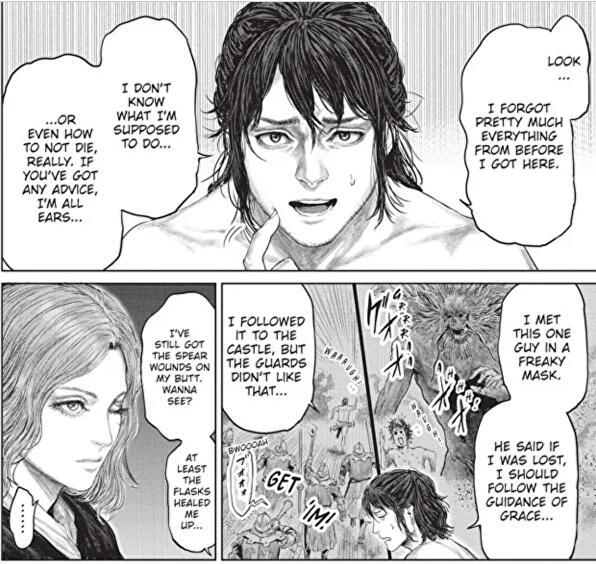 The protagonist of the manga is just as confused as any player jumping into a new FromSoft game.
"Aseo, a poor, Tarnished wretch, finds himself cast out into Limgrave – naked, penniless, hopeless, and maidenless. His only hope in his harsh, unforgiving new home is a mysterious woman named Melina."
And everything about the manga captures the spirit of the game. The main character, Aseo, is a Wretch. With nothing more than a loin cloth and a sense of adventure, Aseo sets out into the Lands Between. Will he rise to the task before him, like the legendary Let Me Solo Her? Or will he abandon courage and seek pants. Only one way to find out.
You can read the Elden Ring manga free on Comic Walker by following this link.
Try jumping
Subscribe to our newsletter!
Get Tabletop, RPG & Pop Culture news delivered directly to your inbox.